"Find Your Voice": Shakti's children witnessing violence campaign Network Launch
July 16, 2015 at 9:31 AM
You are cordially invited to Shakti's "Find Your Voice" launch for networks.
The 'Find Your Voice' project is a Shakti Youth campaign developed to raise awareness about the effects on children and young people witnessing violence at home, with a focus on Asian, Middle Eastern and African youth in Aotearoa/New Zealand.
The launch will be an orientation of campaign with guest speakers and stories from ethnic youth. We are pleased to have Jacinda Ardern, MP and Children's spokesperson of the Labour Party, join us for this launch.
Shakti is offering info-packs with resources (posters and brochures) and workshops for schools and community groups. Click here to request info-packs and workshops, the packs will be available for pick up during the launch.
Special thanks to Lynfield College, Aorere College, Epsom Girls Grammar and Auckland Girls Grammar for participating in the focus groups. Some of the student messages are on our blog:http://findyourvoicenz.tumblr.com/
Please share this invite to your networks and encourage your school or organisation to be present especially if you work with young people from migrant and refugee backgrounds.
This project is funded by Auckland Council.
When: 2pm Thursday 23rd of July 2015
Where: Wesley Community Centre, 740 Sandringham Road Extn, Mt Roskill
Light refreshments provided.
Please RSVP to Mengzhu Fu email youth@shakti.org.nz or phone 09 262 0487 to advise your organisation or school's attendance.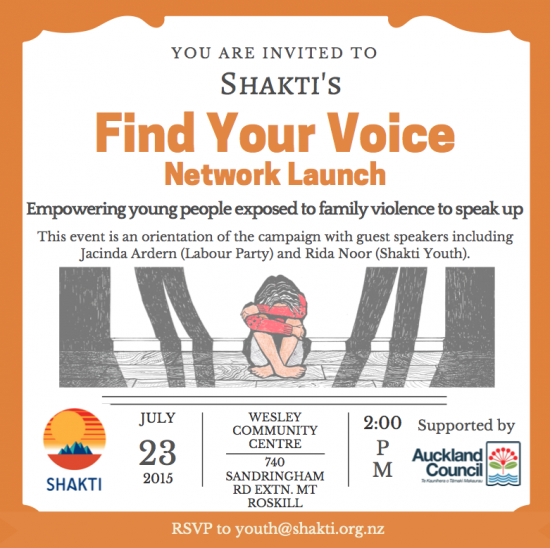 Category: Community Notices