March 17, 2016 at 2:52 PM
Black Panthers Premiere
Join us this Sunday for the premiere of

Black Panthers:
Vangaurd Of The Revolution
Sunday 20 March 2016
7.45pm, Lido Cinema 427 Manukau Rd, Epsom, Auckland
Tickets are $20 - Available Now on Eventfinda

The Auckland Women's Centre warmly invites you to join us for the New Zealand première of 'The Black Panthers: Vanguard Of The Revolution'.

The first feature length documentary to explore the Black Panther Party, its significance to the broader American culture, its cultural and political awakening for Black people, and the painful lessons wrought when a movement derails. Master documentarian Stanley Nelson goes straight to the source, weaving a treasure trove of rare archival footage with the voices of the people who were there: police, FBI informants, journalists, white supporters and detractors, and Black Panthers who remained loyal to the party and those who left it. Featuring Kathleen Cleaver, Jamal Joseph, and many others, THE BLACK PANTHERS:VANGUARD OF THE REVOLUTION is a vibrant chronicle of this pivotal movement that birthed a new revolutionary culture in America.

"The women's voices are as vital and important as those of their male counterparts, something not often seen in documentaries about times of social change."
-Kelly L. Carter, Buzzfeed.

Guest speaker Sina Brown-Davis of Te Roroa, Te Uriohau, Fale Ula & Vava'u descent. A member of the Maori women's group Te Wharepora Hou, a long-time activist and commentator on Indigenous rights in local, regional and international forums.
This event is part of The Auckland Women's Centre fundraising activities, to ensure its continued support for the empowerment of women.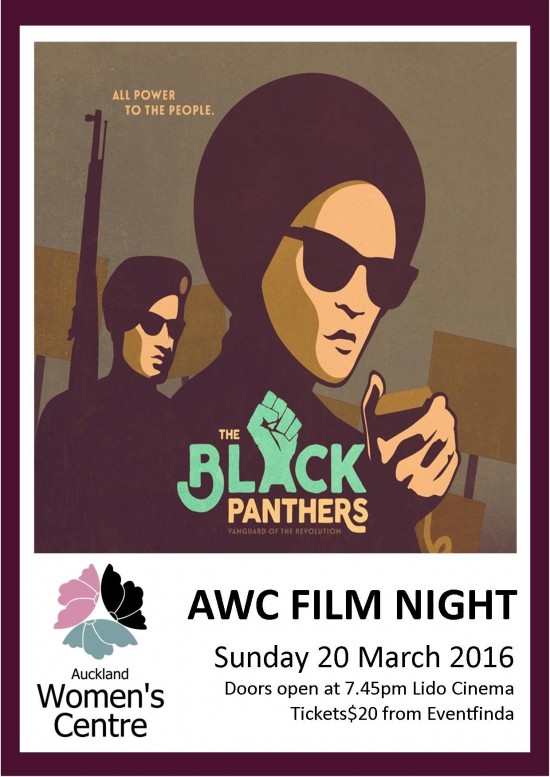 Category: Community Notices