August 14, 2014 at 10:33 AM
Uni's rape advice: wear runners, carry a whistle:
Wellington students have taken umbrage at a university's advice to evade rapists by carrying a whistle and wearing running shoes.

Louise Nicholas Story to air:
Consent - the Louise Nicholas Story screens on TV One on Sunday, 8:30pm
Calls to open up on domestic violence:
Senior Sergent Marty Gray of Dunedin is calling for a national conversation on domestic violence.
Aspiring MPs call for end to violence:
Palmerston North's Mayor (and National Party candidate) has used the first debate of this year's general election campaign to call for all political parties to work together to prevent violence against women.

Poor losing out on Pokie cash:
Money tipped into pokie machines in the poorest parts of Auckland doesn't come back to those communities in gaming grants, new data shows.
In contrast, the wealthiest areas gamble far less but take a disproportionate amount of the money out of other areas. THis has been greeted as proof of a long stated claim about pokies - that the poor get poorer while the rich get richer...
Hairdressers to help:
From Taupo Times Fri 8 Aug 2014 Page 1 http://e-edition.taupotimes.co.nz/?iid=99079#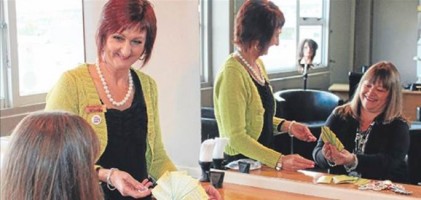 HELP AT HAND: Brooklyn Hair owner Wendy Pirie (left), pictured with Taupo VIN co-ordinator Gloria Eves, is backing a family violence prevention programme being piloted in Taupo involving hairdressers.
Photo: LUKE KIRKEBY
A NEW project involving hairdressers in preventing family violence is being piloted in Taupo in the hope that alarmingly high statistics will drop.

Last week a shocking 22 family violence incidents were reported to police in what is becoming a common occurrence in Taupo.

The project is being led by the national It's not OK Campaign in partnership with Ohakune hairdresser Kelly Porter. It is hoped it will be extended nationally.

Porter said hairdressers have a close relationship with their clients and often notice when things are not quite right.

''We are in a position to ask people if they are OK and to point them in the right direction if they need someone to talk to,'' she said.

Local salons Brooklyn Hair and Bailey Quinns Styling volunteered to host presentations at their salons in early July for hairdressers to find out more about the project. A seminar was also delivered at the Taupo hairdressing school in June.

Brooklyn Hair owner Wendy Pirie said she was happy to be involved in the project.
''I know that domestic violence happens right across the community and if I can be part of helping just one person to get help then it's worth it,'' she said.

She and two of her staff members will appear in a series of posters to be used nationally, along with Kelly Porter and David Peni from Bailey Quinns Styling.

Taupo Violence Intervention Network (VIN) co-ordinator Gloria Eves said Taupo was chosen for the pilot because there are already effective family violence prevention efforts in place to build on.

''But we know that only about 20 per cent of people seek help from Police or social services. It makes sense to up skill people who are in a position to point others towards help,'' she said.

''We are not asking hairdressers to be social workers, just people who know where their clients can go for help if they are experiencing or using violence.'' She said hairdressers who want to be involved will be provided with It's not OK badges and cards with helping agencies listed on them.

They will also be provided with simple information about how to respond to a client who says they are affected by violence at home, or whom staff suspect are.

Pirie said all information told to staff will be treated with ''utmost confidentiality''.
''This is about having a little bit more information about how to respond and we will only refer information on if given permission by the client,'' she said.
Category: News Media