Waitakere White Ribbon Campaign
November 19, 2015 at 2:57 PM
White Ribbon Day is fast approaching us on the 25th of November, a campaign aimed at eliminating men's violence toward women. If you're looking to get involved we've got you covered with 10 Ways to Get Involved in White Ribbon Day! There are heaps of events happening right across West Auckland during the month of November and the week of White Ribbon especially, so spread the word and get involved!
Check out our 10 Ways to Get Involved Flyer: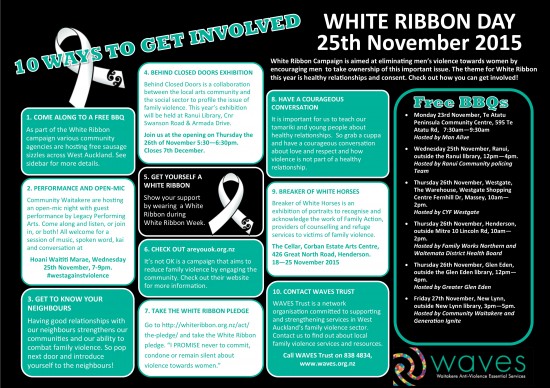 Events include:
The theme for this year's campaign is healthy relationships and consent. If you haven't seen it already, check out this great animation explaining consent.
Category: White Ribbon Day