Sirens and Sounds Safety Festival
November 19, 2014 at 1:33 PM
A free, family fun day with a special theme is back in force again this year at Avondale's Eastdale Reserve on Saturday 22 November from 11am – 3pm.
Sirens and Sounds Festival is a collaborative initiative effort between the Neighbourhood Safety Panel and the Neighbourhood Policing Team, supported by Whau Local Board, Rosebank Business Association and numerous local businesses, schools and community organisations.
It will showcase the work of the NZ emergency services alongside music and entertainment, community groups, food stalls run by local schools and providers, competitions and other great activities. It is fun way of projecting vital information and will enable diverse communities to connect, engage, learn, or just relax and enjoy this free, local event.
Visitors will be able to get up close with local heroes from the NZ Police, Fire Service and St John Ambulance with interactive displays and opportunities to find out more about working with these vital organisations.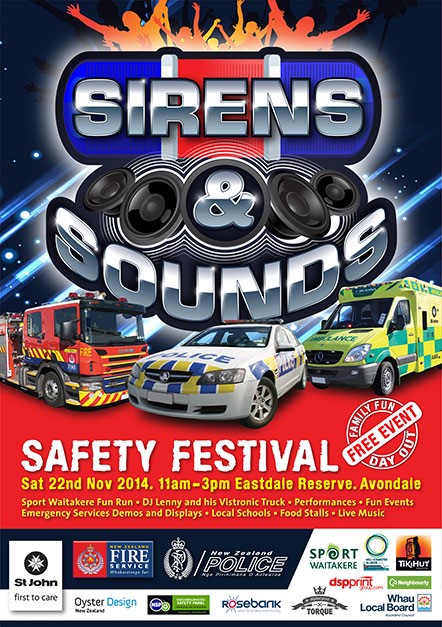 One of the highlights will be a combined demonstration featuring a simulated accident highlighting how a crash victim is safely cut out of their vehicle. Followed by an interactive police dog challenge.
As well as cultural performances and the chance to try out your Hot Hula moves, DJ Lenny will be spinning discs on the ''Vistronic Truck' and MC Michael Alofa and guest will enthusing the audience with participant challenges.
This year Sport Waitakere is holding a free 2.5km or 5km fun run/walk. Individuals, families and children are encouraged to enter and everyone is welcome.
The Neighbourhood Safety Panel is made up of residents from Avondale and Waterview with the aim is to make our communities better places to live by initiating a series of fun, local events which encourage participation by all. NSP have been working closely with local police, council – particularly Whau Local Board, residents and businesses to achieve these goals.
Category: Community Notices