Let's Stop Sexual Violence
July 03, 2014 at 9:56 AM
Ministry of Social Development's Social Change Team have launched a new campaign aimed at helping stop sexual violence as part of the Government's broader sexual violence prevention strategy.
Are you that Some1? aims to equip young people (16-21 years) with the confidence and knowledge to safely speak up and step in to prevent sexual violence.
Background
To develop the campaign we've pulled from overseas initiatives, and advice from contacts both in New Zealand and overseas. We've worked with a number of key people in the sexual violence prevention sector, who have provided valuable advice and feedback and helped shape the campaign and its messages. We've also worked with focus groups in the target audience to test and re-test the messages and visuals to ensure we get the approach right.
The campaign
The campaign focusses on four different posters, where someone is at risk of sexual violence or unwanted sexual contact is taking place. Each poster is clear that the behaviour is not OK and prompts the bystander to safely intervene by posing the question "Are you that someone?, with the call to action on each "Let's stop sexual violence".
You can also view and download all four posters here to www.msd.govt.nz/areyouthatsome1
Here is one of the four posters available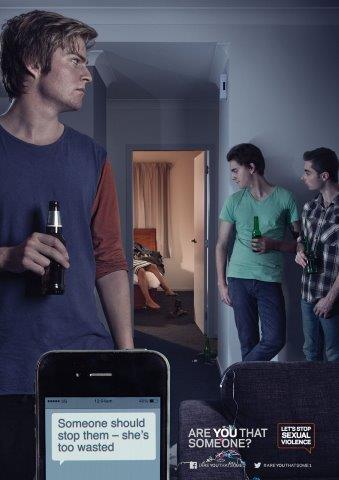 The overall aim of the campaign is to:
Create awareness and engage with the target audience about what constitutes sexual violence or harassment and how people can safely take action

Address the norms that minimise sexual violence and encourage young people to look out for and challenge their mates and peers
Generate positive media coverage and conversation on the campaign and more widely on sexual violence prevention.
Social Media
A key part of the campaign is the engagement with the target audience on social media, through a dedicated Facebook and Twitter page. We'll be sharing posters, information and encouraging conversation about how to prevent sexual violence on these pages. We'll also be encouraging them to visit youth-based campaigns such as Who are You? and Sex 'n Respect for more information on safe sex, consent and how to prevent sexual violence.
While the campaign does not explicitly encourage people to seek help if they have experienced sexual violence, our social media moderators are trained to respond quickly and sensitively to any disclosures and refer people on to those who can help. We will have information on helping services on the Facebook page and the page will be moderated with any disclosures or sensitive questions being referred to Youthline's 0800 number and the TOAHNNEST website, which lists a range of support services.
How can you be a part of it?
Facebook
You can like the official campaign page on https://www.facebook.com/AreYouThatSome1? We welcome any comments or contributions to the conversation you may have.
Twitter
You can follow us on the official campaign Twitter profile on https://twitter.com/AreYouThatSome1. We would be pleased to chat with you online and tweet about the campaign to your followers.
Posters
We have a limited number of printed posters, however are happy to supply you with a set to display. To arrange for a set to be sent to you, please contact some1@msd.govt.nz
Alternatively, you can download the posters and print them yourself – they're available on the MSD website here www.msd.govt.nz/areyouthatsome1
If you are displaying the posters, we'd encourage you to take a photo of your display and share it with us on social media.
Category: It's not OK