Leading in Communities - Final call
April 09, 2015 at 7:58 AM
LEADING IN COMMUNITIES – FINAL CALL OUT FOR FREE WORKSHOP SERIES - STARTS NEXT WEEK *only a few spaces left
Community Waitakere is looking to discover, recognise and encourage local people leading in our communities. With support and input from community partners, we are offering this (free!) opportunity for West Aucklanders to develop their leadership skills and confidence.
Are you or do you know someone…
Already involved in making positive change in your community and want to grow as a leader?
Noticing different ways that people lead in communities but don't feel confident as a leader yourself?
Keen to learn and try out different ways of leading in communities, in a group environment?
Part of a West Auckland neighbourhood?
If these questions are making you think YES – or even MAYBE – then Community Waitakere would love to hear from you! The programme runs for ten weeks from April 16th and involves seven weeks of workshop sessions (5-8pm on Thursdays at Corban Arts Estate Centre) and three weeks of self-managed learning. Community Waitakere believe that leadership doesn't occur within a small group of 'special' individuals but sits within all neighbourhoods so please don't be shy – this opportunity is for you even if you don't describe yourself as a leader!
If you want to find out more, and to RSVP, please get in touch with Mandy Spencer at Community Waitakere (mandy@communitywaitakere.org.nz / phone 838 7903). Spaces are very limited and we are looking for a diverse range of people from the three West Auckland Local Board areas; Henderson-Massey, Waitakere Ranges and Whau.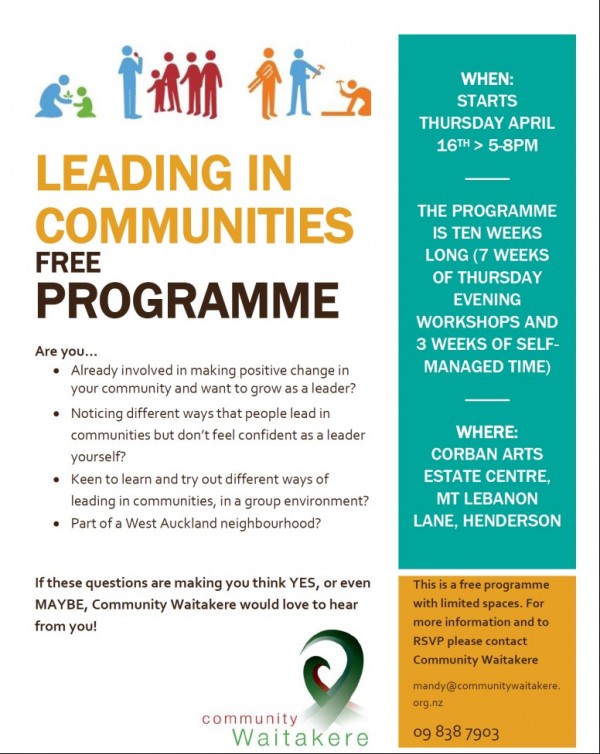 Category: Community Notices