Homelessness and Housing in West Auckland Hui 2021
July 23, 2021 at 3:31 PM
From Housing Call to Action
When: Wednesday 11 August 2021, 9.30am - 2.00pm
Where: Ceramco Park Function Centre - 120 Glendale Rd, Glen Eden
The Purpose of the day:
• How is the Government and the Housing Sector working to address homelessness and lack of long term sustainable housing?
• What is the plan for the future?
• What resources are available to support people with housing needs?
The day will begin with presentations from a range of Government (Kāinga Ora, Ministry of Social Development, MBIE - Tenancy Services, and HUD - Ministry of Housing and Urban Development) representatives, and community housing organisations working in the sector. In the afternoon we will have a panel discussion to explore how the sector plans to improve access to long term, sustainable housing in Auckland. Please bring along an item of food to donate to the local Pataka Kai.
Please RSVP by Monday 9 August 2021 with any dietary and/or access requirements to housingc2a@gmail.com or phone (09) 8371471.
And please share with your networks.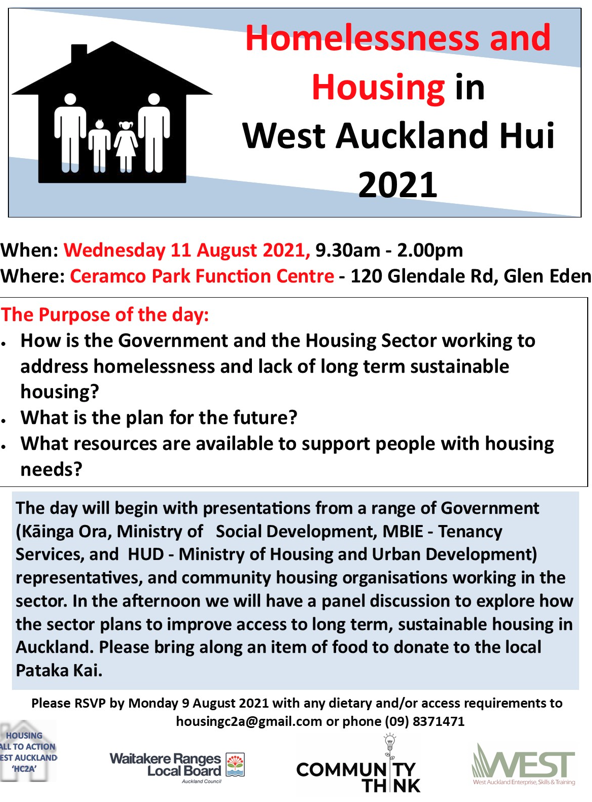 Category: Events