Workshop: Supporting Adolescents who have Experienced Sexual Harm
April 05, 2019 at 11:31 AM
From Te Puaruruhau Child Protection Community Educators
Date: Friday 17th May 2019
Venue: Auckland City Hospital
Cost: Free
Topics include: Sexual exploitation, trauma informed practice, tikanga Māori, managing disclosures & therapeutic support services. The day also includes a workshop on how to manage disclosures of sexual abuse and how to consult and make onward referrals for further support. The day ends with a professional panel to answer your questions with multidisciplinary representatives from Health, Police, Oranga Tamariki and SHINE.
To register please complete the registration form linked below. Numbers are strictly limited.
https://docs.google.com/forms/d/e/1FAIpQLSfCMqtIlnsyJSycps4WmN98l70KDZyx-kJkY9WsXcDBq8bCMw/viewform?usp=sf_link
For further information please contact the Te Puaruruhau Child Protection Community Educators at childprotectioneducation@adhb.govt.nz or (09) 307 2860.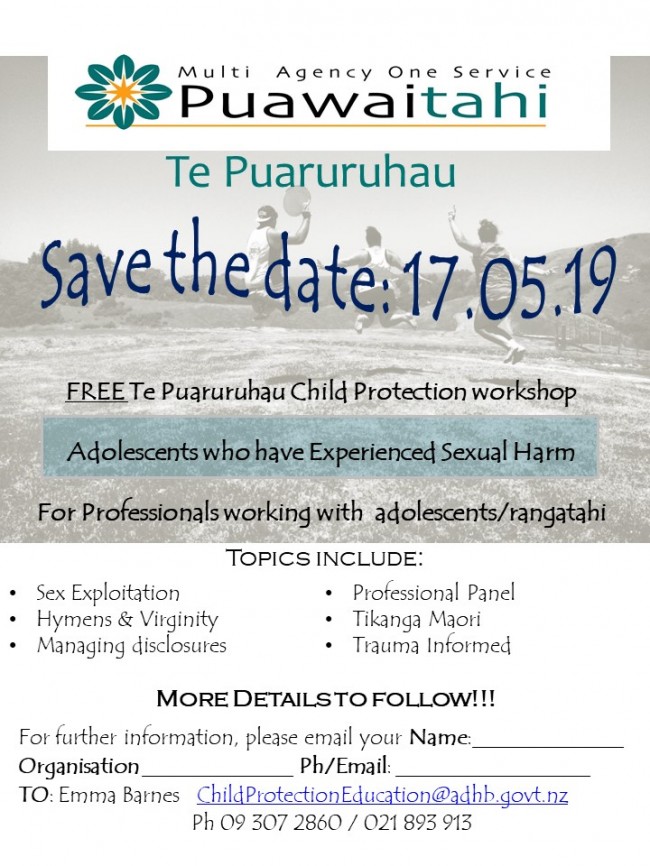 Category: Training