Visitor Care Manaaki Manuhiri - Extended to November 30th
October 30, 2020 at 1:05 PM
We want to touch base and let you know about the Visitor Care Manaaki Manuhiri programme, which offers support to Foreign Nationals in New Zealand. The programme has been extended for an additional two months till November 30th. This means that people in New Zealand on visitor, work, and student visas and people working under the RSE seasonal workers scheme, living under financial hardship, can continue to apply for support. We are hoping you can help spread the word about the Visitor Care Manaaki Manuhiri programme with them.
We have a team of available people to offer more info either online or in-person if this would benefit your organization. If you would like to organize someone from our Auckland team to speak to your group in person, please contact Claire at 021 228 2054 or email Claire.Speedy@redcross.org.nz.
For enquiries on individual applications, please contact 0800 Red Cross.
Below is a bit more information, including posters available in multiple languages, to help get the word out to those who need support the most.
If you have any questions, please contact us at 0800 Red Cross.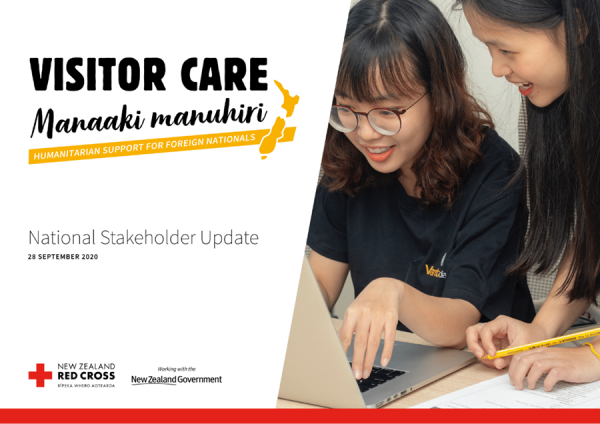 Click here to view the report - regional data is available here and via the hyperlinks on page 4.
Kindly share this report and continue to promote the programme with your networks - noting that foreign nationals facing hardship can apply once every 4 weeks as required.
The marketing assets are available in 17 languages on the website and this stakeholder dropbox. Here are the resources in English:
You can watch our video explainer session
Category: Campaigns