Visionwest: Food Support and Rangatahi Support Line
September 03, 2021 at 3:14 PM
Visionwest Pātaka Kai is now operating throughout West Auckland using a delivery model. That means, you can order emergency food support and they will deliver it to your home.
To order food, you can either:
• PHONE 09 818 0781.
Please be patient. Our team is working as fast as they can, but we are experiencing an unprecedented demand for food.
• EMAIL foodbank@visionwest.org.nz. If emailing, please supply:
Your name.
Your phone number.
Your full address, including postcode.
The number of people in your household.
The reason behind your food need, e.g. health issues, financial pressure, self-isolating etc.
The predominant ethnicity of your household (because we are interested in identifying the Kiwis who are most affected by food needs during lockdown).

We will email you back to confirm – please be patient while you wait for a response. If you are eligible for food support, we will deliver on Wednesdays or Fridays.
PLEASE NOTE: you will have to phone every time you need food support – we cannot supply regular weekly orders.
During the COVID Alert Level 4 lockdown, we are unable to accept donations of food from members of the public. We will let you know when we are able to accept food donations again.
In the meantime, if you would like to support Visonwest's work as we reach out to the vulnerable in our communities please CLICK HERE.
Click here for more information about Visionwest's services around COVID-19 Alert Level's 3 and 4
Rangatahi Support line
We have now set up our 0800 Rangatahi support line. See details below.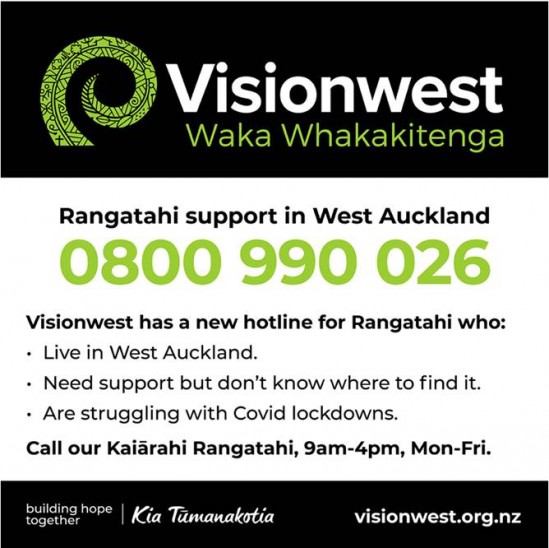 Category: Service