Social skills and communication: engaging with someone on the autism spectrum
July 23, 2021 at 3:32 PM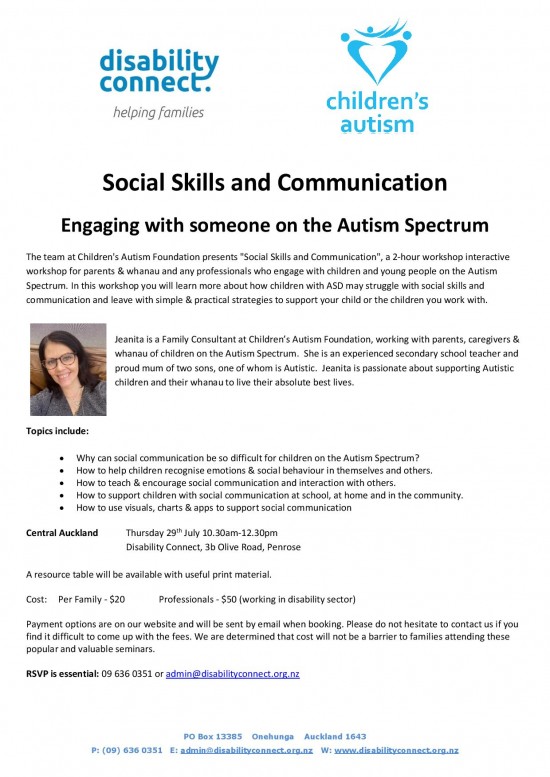 The team at Children's Autism Foundation presents "Social Skills and Communication", a 2‐hour workshop interactive workshop for parents & whanau and any professionals who engage with children and young people on the Autism Spectrum. In this workshop you will learn more about how children with ASD may struggle with social skills and communication and leave with simple & practical strategies to support your child or the children you work with.
Jeanita is a Family Consultant at Children's Autism Foundation, working with parents, caregivers & whanau of children on the Autism Spectrum. She is an experienced secondary school teacher and proud mum of two sons, one of whom is Autistic. Jeanita is passionate about supporting Autistic children and their whanau to live their absolute best lives.
Topics include:
Why can social communication be so difficult for children on the Autism Spectrum?
How to help children recognise emotions & social behaviour in themselves and others.
How to teach & encourage social communication and interaction with others.
How to support children with social communication at school, at home and in the community.
How to use visuals, charts & apps to support social communication
Central Auckland – Book here
Thursday 29th July 10.30am-12.30pm
Disability Connect, 3b Olive Road, Penrose
Click here for the pdf flyer
Cost: Per Family – $20 Professionals – $50 (working in disability sector)
Payment options are on our website and will be sent by email when booking. Please do not hesitate to contact us if you find it difficult to come up with the fees. We are determined that cost will not be a barrier to families attending these popular and valuable seminars.
RSVP is essential: 09 636 0351 or admin@disabilityconnect.org.nz
Click here for more information
Category: Training