FREE Festival of Learning Expo 2018
August 24, 2018 at 10:24 AM
From the Community Waitakere Noticeboard
The Festival of Learning 2018 is a FREE interactive expo of adult education courses and workshops available in West Auckland. Over 40 organisations and groups who provide courses in gardening, languages, crafts, work place qualifications, apprenticeship opportunities, food making, compost making and even model aircraft will be showcasing what they have to offer! There will be demonstrations, interactive activities, activities for the kids and adults alike, and performances throughout the day. Bring the kids, bring your mum, bring your Nan and discover the world of life-long learning... you never know where it will take you!
Plus, share the Festival of Learning & Adult Learner's Week Awards 2018 Facebook page www.facebook.com... and join as going or interested and you will go in the draw to win a $100.00 WestCity voucher which will be drawn at 1pm at the event. Winners will be notified via this event page, the WEST Work Ready page and via private message.
Event: Festival of Learning Expo 2018
Date: Saturday 1 September 2018
Time: 11.00am – 2.00pm
Location: Te Atatu Peninsula Community Centre and Library, 595 Te Atatu Road, Te Atatu Peninsula.
We look forward to seeing you there.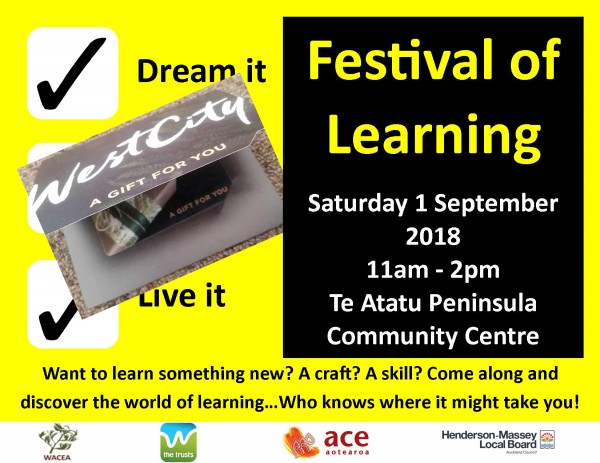 Category: Events