Family and Sexual Violence Work Programme Update – Feb 2018
February 16, 2018 at 12:19 PM
*From the Ministry of Justice*

FAMILY AND SEXUAL VIOLENCE WORK PROGRAMME UPDATE
Nau mai, haere mai. Happy New Year and welcome to the latest update on the Government's Family and Sexual Violence Work Programme.
Through this newsletter, you'll receive updates on current work, including the implementation of the Family and Whānau Violence Legislation Bill.
We welcome feedback and questions, so please email us at familyandsexualviolence@justice.govt.nz
New Parliamentary Under Secretary to the Minister of Justice
New faces at the Multi-Agency Team for Family and Sexual Violence
Evaluating the Integrated Safety Response (ISR)
New resources for victims of sexual violence
Justice & Corrections align contracting
Progress in support of sexual harm services
---
New Parliamentary Under Secretary to the Minister of Justice
(Domestic and Sexual Violence)
The Government has created the new position of Parliamentary Under Secretary focused on family and sexual violence. Jan Logie MP has been appointed to the role, bringing her extensive knowledge of the issues and the sector to her work. Under Secretary Logie has been a consistent advocate for those affected by family and sexual violence. She will lead the Government's work on the design of an integrated and responsive family violence system, engagement with the sector, responses to the Law Commission report on justice responses to victims of sexual violence, and the implementation of new family violence law. If you wish to contact the Under Secretary's office, please email: jan.logie@parliament.govt.nz
---
New faces at the Multi-Agency Team for Family and Sexual Violence (MAT)
Sarah Holden is the newly appointed Director of the MAT for Family and
Sexual Violence, replacing Rosemary Cook. Sarah has over 30 years of public policy experience in the UK and New Zealand, with senior management roles in a variety of government departments and agencies. She is passionate about social justice, having spent a childhood in Africa and a further 20 years at the UK Department for International Development designing solutions to reduce poverty. When at the New Zealand Ministry of Health, she sat on the Family Violence Taskforce, and has joined us at the MAT to complete what she considers to be "unfinished business". When not working for government she runs a high-tech start-up.
Hannah Cranston has taken up the role of Programme Manager of the MAT, replacing Bryan Smith. Hannah came to New Zealand from the UK in 2009, having been a Domestic Violence Coordinator for Avon & Somerset Police and a Northern Somerset Council. There, she managed the establishment of Multi-Agency Risk Assessment Conferences (MARACs) and a specialist domestic violence court. Here, her first job was as the National Services Manager for Women's Refuge, and then the prevention coordinator for the Wellington Sexual Abuse Network (now the Sexual Abuse Prevention Network). Hannah is currently on secondment to the multi-agency team. Her substantive role is the manager for Sector Investment in the Ministry of Justice's Sector Group, where she managed the social investment approach to justice programme. She lives in Lower Hutt with her beautiful but very naughty cat, Raj.
---
Evaluating the Integrated Safety Response (ISR)
The MAT is leading the final evaluation of the Integrated Safety Response pilots, which are operationally led by the NZ Police. The first evaluation was released in August 2017 by the Social Policy Evaluation Unit (SUPERU). While only a small number of people were interviewed for that evaluation, all of the victims that were interviewed reported feeling safer, with many noticing improvements in their overall wellbeing. Sixty-three per cent reported a complete stop to the abuse following ISR involvement.
The scope of the final evaluation is still under development, but is intended to build on our understanding of the outcomes achieved for people and families / whānau who have gone through the ISR process and associated services. This evaluation will be conducted in close partnership with the Police, Oranga Tamariki and providers working in the pilots.
The evaluation will inform future advice to Ministers about the next steps for the ISR. For more information or if you would like to be involved in the evaluation please contact hannah.cranston@justice.govt.nz
---
Implementing new law
The Ministry of Justice is the lead agency for the implementation of the Family and Whānau Violence Legislation Bill. While the timing for the passage of the Bill and its entry into force are still to be confirmed, work is underway to enable new court processes and ways of working in anticipation of new law.
Here's an update on a couple of the work streams.
Risk and needs assessment
The Bill provides for a risk and needs assessment service for perpetrators of violence. This service will
be accessible for those subject to Police Safety Orders. We are taking the opportunity whilst designing this service to explore the potential for more referral pathways into this service from other parts of the family violence system, including self and whanau / community referrals.
A multi-disciplinary team from the family violence sector and Government, with expertise in risk assessment and service delivery is working collaboratively to design a prototype for future services. The goal is to create a risk and needs assessment service that is easily accessible, appropriate, and delivered specifically for perpetrators to take practical action to stop violence. In support of this work, the team will be engaging with perpetrators and victims of violence, including wider whānau and family.
Understanding the people who engage with Courts
This work stream is focused on ensuring the voices of the people who use Court services are a primary consideration in the implementation of legislative changes.
Customer voices are initially being sought on three specific issues:
The safety of victims (including children) in family violence bail decisions,
Simplifying the protection order application form, and
Improving system responses to a protection order being issued.
Through face to face interviews, the Ministry is gaining an understanding of people's experience of current processes. As the work progresses, new processes and forms will be tested so that we can ensure they meet the needs of customers. Community stakeholders will also have an opportunity to contribute their expertise and we'll advise relevant organisations as the timing for this work is confirmed.
This people-centred approach will enable greater responsiveness to cultural perspectives and the needs of the more vulnerable members of our communities, especially children, those with disabilities, LGBTQI, and the elderly.
---
New resources for victims of sexual violence
Sexual harm helpline
The Ministry of Social Development is developing a new national sexual harm helpline called 'Safe to talk'.
The helpline will provide, for the first time, nationwide 24/7 access to free, confidential information and support to anyone affected by sexual harm.
The helpline will go live on 19 February in the Canterbury region. This will provide an opportunity to test the new helpline and work with providers and users of sexual harm services to strengthen the referral pathways before 'Safe to talk' goes live nationally in April.
Navigating the justice system
The Ministry of Justice is developing new online guidance and information so that victims of sexual violence and their supporters can easily access information about what to expect in the court process.
The guide is intended to reduce the trauma and secondary victimisation associated with the judicial process, as recommended by the Law Commission's 2015 report The Justice Response to Victims of Sexual Violence.
The Ministry is working with other government agencies, with organisations who work with victims, and with victims themselves to ensure the resource meets the needs of people who will use it. Victims' voices will be included by way of quotes and links to other websites.
For information please contact: jane.tronson@justice.govt.nz
---
Two billboards inside Wairoa
Billboards featuring members of E Tū Wairoa, the home grown, whānau-first movement to rid Wairoa of violence, stand at either end of the town's famous bridge.
E Tū Wairoa is a network of local whānau and community leaders committed to building a community that encourages and supports people from all backgrounds to live violence free lives. Members came together two and a half years ago, inspired by E Tū Whānau and supported by a small team at MSD, to encourage a collective stance against violence based on the unique cultural strengths of Te Ao Māori.
E Tū Wairoa is a great example of the way E Tū Whānau's kaupapa is adopted, adapted, and used to influence and encourage positive change within communities. A marae-based tāne group is run by the participants themselves, with the support of Oranga Tamariki. Its success, is generating conversation around town, and is driven by the men deciding how they will work together to change their own attitudes and violent behaviours.
E Tū Wairoa has a similar group for wāhine. It holds community events and actively promotes the E Tū Whānau Charter of Commitment. The Charter has scores of new signatories, and information on the kauapapa is currently on display at the Wairoa Council offices. Flags carrying E Tū Whānau values fly along Wairoa's bridge.
They and the billboards, have encouraged conversations about the way individuals and their families can make positive changes, in ways big and small, that reverberate throughout their communities.
More information on the E Tū Whānau movement can be found on www.etuwhanau.org.nz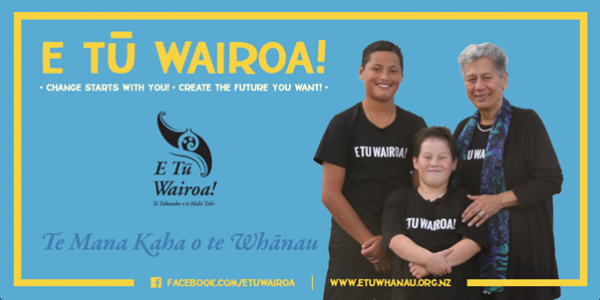 ---
Justice & Corrections align contracting
As part of the cross-agency work to join up the family violence system, the Ministry of Justice and Department of Corrections are aligning their procurement and contracting processes for specialist perpetrator interventions (family violence programmes) and safety programmes for adults and children. Streamlining these contracts will help reduce providers' compliance costs, allowing more time with the people who need support.
All contracted providers have now been offered contract extensions until 30 June 2018 to allow for procurement to take place, with new aligned contracts to begin on 1 July 2018.
In roadshows around the country in late 2017, providers were able to ask questions about what the alignment of contracts would entail. Alignment means service delivery, pricing, and contract administration will be consistent.
The joint MOJ and Corrections Request for Proposal was published on GETS on 23 January 2018 and is open for responses until 27 February 2018.
---
Progress in support of sexual harm services
The Ministry of Social Development is making progress to stabilise specialist sexual harm services to better support victims and prevent sexual harm.
The Ministry of Social Development has been working closely with providers in the sexual harm sector to develop:
Sexual harm crisis support services
Harmful sexual behaviour services for non-mandated adults
Services for male survivors of sexual abuse.
One of the important achievements over the past year has been the roll-out of three-year contracts to all 33 existing specialist sexual harm crisis support service providers.
These contracts, as well as the introduction of new service guidelines and reporting measures, are helping to stabilise the sector and build capacity and capability. Work is currently underway to fill the remaining geographical gaps in services.
Harmful sexual behaviour
A kaupapa Māori pilot aimed at addressing harmful sexual behaviour for non-mandated adults (adults not in the criminal justice system) started on 1 February in Te Atatu, Auckland.
The provider, Korowai Tumanako, will work holistically with Māori men who have engaged in harmful sexual behaviour and their whānau support network. The aim is to prevent sexual harm, increase safety, and restore and enhance the mana of whānau and communities.
Services for male survivors
Consultation has been underway with the male survivor sector to develop services to support male survivors of sexual abuse. Further work will continue this year.
You can find out more about the Ministry of Social Development's work programme here.
---
Workforce capability
The Multi-Agency team (MAT) is responsible for a cross-government work programme to reduce family and sexual Violence. An important element of its work is supporting organisations to build the capabilities of their staff to prevent, recognise and respond to family violence.
In collaboration with sector leaders, the MAT has already developed a Workforce Capability Framework and the Family Violence and Risk Assessment and Management Framework. In support of this work, the MAT is working with early adopters of the frameworks to develop guidelines for users. It is also developing proposals for ongoing support for organisations to build their capabilities, through:
Partnerships with organisations to enable the development of training materials, qualifications, practice guidelines, organisational policies and other 'infrastructure' necessary to build the capability of their workforces in support of an improved family violence system.
Support for platforms, resources, and networking initiatives to connect organisations and workers to share best practice approaches
Practical advice and support to organisations and FV networks for them to build organisational and workforce capability.
One example of building workforce capability is the Ministry of Justice work to enable safe responses to staff and customers who may be affected by family violence and sexual violence. The Ministry has developed a workplace family violence policy and is implementing it through training for managers, information sessions for all employees, an online training module, and the appointment of family violence Contact People who will provide support to staff. The second stage of this work is focused on training and supporting frontline staff with their responses to customers who are affected by family or sexual violence.
To make contact with the MAT please contact beth.anslow@justice.govt.nz
Category: Government